Redirects
A redirect is a way to send both users and search engines to a different URL from the one they originally requested.
Types of Redirects
301, "Moved Permanently"
302, "Moved Temporarily"
301 Moved Permanently
A 301 redirect is a permanent redirect which passes between 90-99% of link equity (ranking power) to the redirected page. broadly speaking 301 redirects are implemented when you want to move all of the value to the destination url after the source has changed permanently.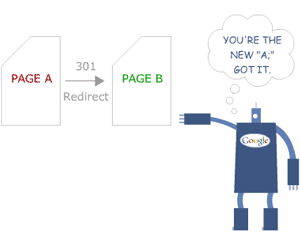 Moving a new domain permanently
original domain : http//www.example.com
new domain http//example2.com
302 Moved Temporarily
It indicates that a URL has been temporarily moved to another URL.
Search engines don't immediately pass page rank to the destination URL.
302 does not indicate that the destination URL should be indexed.
it can be used in cases of A/B testing for recurring temporarily content.